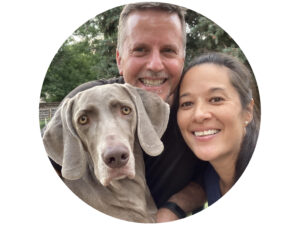 There are primarily two things I'd like you to know about me.
One, I'm no better or different than anyone else. I, too, have faced troubles in my life, and made poor choices along the way. And, all too often (or, maybe not often enough), I've prayed the words of King David, of David and Goliath fame, "Oh Lord, have mercy on me. Heal me, for I have sinned against You" (Psalm 41:4).
Like every human being alive—or who has ever lived—I'm in desperate need of a Savior.
And, two, as a 30-year veteran of an international outreach ministry called Young Life (12 years as a volunteer, 18 on full-time staff), and 5 years volunteering as a youth group leader for my former church in Tulsa, Oklahoma (Redeemer Covenant Church), I've spent over half my life walking alongside young adults. And I loved every minute of it.
Throughout my time spent with young people, watching them go through challenges I never had to face when I was their age (many of whom had little to no understanding of who Jesus was or what he was really like), a longing kept tugging at my heart to write a daily devotional that could be used in a small group or one-on-one setting; one that would make Jesus relevant and real to someone who rarely, if ever, stepped foot in a church to hear about him.
Then the unthinkable happened — the world came to a screeching halt. With the COVID-19 lockdown of 2020 came new-found time on my hands, and in a paraphrased version of Psalm 37:4, I realized the lockdown was a blessing, and through it God gave me the desire of my heart. I was able to complete the first installment of a devotional series called "Where Do I Begin?" This 31-day devotional, entitled, "Getting to Know Jesus" is geared toward young adults who may be exploring who Jesus is and what it means to trust in him.
Currently, it's being used as a relational outreach tool by volunteers of an international organization ministering to incarcerated youth. And, a Bible Plan version is available on YouVersion's Bible.com site. You can view it by clicking on the following:

Also, the "Where Do I Begin? Getting to Know Jesus" daily devotional is now available in print (includes a journaling component) or eBook format by purchasing it on Amazon.
QuickHits
A former Tulsan, I've called Colorado Springs home since 2007. I love hiking 14ers, but am no technical climber. Hobbies include hiking, camping, vegetable gardening, and writing. Sadly, I used to include tennis and soccer on that list. But my knees are begging me to take up pickleball!

Birthday: September 11
Birthplace: Tulsa, OK
Current Residence: Colorado Springs, CO
College: Oklahoma State
High School: Holland Hall
Married to Maria: She points me to True North when I veer from the path.
Political Views: Fiscally conservative, socially aware, and politically guarded.
Religious Views: I find wisdom in many, but my devotion is to Jesus.
Favorite Music: Southern Rock; Blue Grass; rocked-out old hymns.
Movies that Make Me Cry (every time I watch them):
It's a Wonderful Life (one day, sooner or later, God will show us whose lives we've touched in a positive way)
Gladiator (a man's man, dying for a righteous cause)
Paddington 1/Paddington 2 (seriously, you need to watch these movies)
Babe (a farmer sticks to his guns, when no one believes in him, and in the end astonishes everyone)

Elf (in spite of being surrounded by doubters, an elf restores hope to the world . . . well, at least New York City)
Homeward Bound (I loved showing this movie on overnight bus trips to unsuspecting teens . . . I would flip the interior lights on at the most heartwarming moment in the movie, and the toughest kids on the bus were wiping tears from their eyes)
Favorite Books (In no particular order . . . actually, that's not true. The first two are second only to the Bible in how they've influenced my view of Jesus, others, and myself):
Attachments: Why You Love, Feel, and Act the Way You Do
Gentle & Lowly: The Heart of Christ for Sinners and Sufferers
Disappointment with God
Into Thin Air
When You Can't Come Back
The Fourth Turning
Messy Spirituality
The Chronicles of Narnia
Rainbow Six
One Light Still Shines
Waiting for Our Souls to Catch Up
The Problem of Pain
Unbroken
Who You Are When No One's Looking
The Grace & Truth Paradox
The Freedom of Self Forgetfullness
When Helping Hurts
How God Makes Men
Traveling Mercies: Some Thoughts on Faith
Shattered Dreams
One of Many Favorite Quotes:
"As [Christ's] friendship is sweet, so it is constant in all conditions . . . If other friends fail, as friends may fail, yet this friend will never fail us. If we be not ashamed of him, he will never be ashamed of us. How comfortable would our life be if we could draw out the comfort that this title of 'friend' affords! It is a comfortable, a fruitful, an eternal friendship." ~ Richard Sibbes
Professional Life: LinkedIn Page